Johannesburg Airport Hotels and accommodation close to Johannesburg Airport


JOHANNESBURG AIRPORT HOTELS
Holiday Inn Hotel International Airport Johannesburg
Johannesburg Hotels
The Holiday Inn Hotel International Airport Johannesburg is just 500 metres from South Africa's busiest airport. The exterior is encased in a modern, glass facade, which sets the tone of this contemporary hotel. The cool, spacious lobby, with its tasteful furnishings and attractive coffee bar, creates a welcoming atmosphere. Guests have a wide choice of accommodation from standard to executive rooms, which offer every amenity and round-the-clock room service. The informal restaurant provides an extensive choice of cuisine, while the attractive cocktail bar is the perfect setting for a pre-dinner drink. There is a fully equipped International Business Centre providing a range of services essential for today's technological environment. Although close to the airport, the gardens and outdoor pool provide a relaxing setting. Shops, cinemas and banks are a short distance away and the concierge can arrange numerous sporting activities.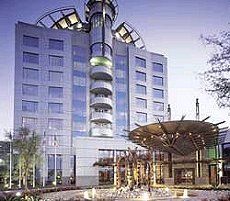 Intercontinental Airport Sun Hotel Johannesburg
South Africa's first and only luxury hotel at an airport, the Intercontinental Airport Sun is situated within walking distance from the terminals at Johannesburg International Airport. This conveniently located 138 room hotel is uniquely positioned to meet the needs of discerning business and leisure travellers requiring the ultimate comfort and personalised service combined with consistent world class standards. The hotel also offers in-room dining with an optional "flight friendly" menu, allowing long-haul passengers to dine before boarding, then settle down for an uninterrupted night's journey. Bar is an ideal meeting place for local and international business associates and in-transit travellers. Other relaxation facilities include a massage facility, a fully equipped gym with steam baths as well as an indoor heated swimming pool, which has a panoramic view across the Johannesburg skyline. Intercontinenatl Airport Sun Hotel Johannesburg welcomes both domestic and international travellers to experience the ultimate in comfort and convenience.



Rates in ZAR / USD / Euros / GBP etc
Johannesburg Airport Hotels South Africa
Last Minute Hotels Johannesburg. Last Minute hotel discounts for Johannesburg Airport Hotels. Last Minute hotel room available Johannesburg Airport.
Last Minute Hotels South Africa
Last Minute Hotels South Africa and Last Minute South African hotel reservations for Last Minute hotel deals and Last Minute hotel special offers in Johannesburg.
Johannesburg Hotels
Johannesburg Hotels in South Africa. Sandton Hotels in Johannesburg. Johannesburg hotel rates and hotel reservations for hotels and accommodation in Johannesburg South Africa.
Last Minute Johannesburg Airport Hotels
Johannesburg hotel accommodation at the last minute.
Johannesburg Hotels last Minute
for last minute bookings for hotels near Johannesburg Airport.
Singapore Hotel Bookings
for Singapore hotel bookings.
Asia Airlines and Flights
including flights from Johannesburg to Asia, flights from Johannesburg Airport to Bangkok and Singapore.
Africa Hotels and Bookings
for hotel bookings in Africa.
Phuket Beach Hotels
for beach hotels in Phuket, fly from Johannesburg Airport via Singapore or bangkok to Phuket
< including hotel reviews for Johannesburg South africa.
Hotels in Africa
plus rates and reviews.
773871
Hotels at Johannesburg Airport South Africa